Welcome to LisaBenography



Access to Materials
Dr. Litterer believes that resources should be shared freely whenever possible. She hopes that LisaBenography will help researchers access materials about Ben that may otherwise have been inaccessible due to paywall restrictions, inability to visit an archive, lack of time to scour materials, or other restrictions due to time, energy, or money.

Preserving Queer History
Lisa Ben's story has been fragmented, with different aspects shared within particular communities or publications that include their own contexts and purposes. Dr. Litterer hopes to use LisaBenography to create a central digital bibliography of every source she can find about Ben, so that future researchers and queer creatives can find inspiration in Ben's story.
I'm Dr. Kate Litterer: independent scholar, writer, and coach

Dr. Litterer received her MFA (Creative Writing) and PhD (Rhetoric and Composition) from the University of Massachusetts Amherst. She is a self-employed Productivity Coach, creator of the popular blog The Tending Year, published author, and independent researcher.
Dr. Litterer's dissertation, "Lisa Ben and Queer Rhetorical Reeducation in Post-war Los Angeles," focused on the political effects of Lisa Ben's queer rhetoric within writing and music during the 1940s-1060s. She endeavors to use her academic training in historiography, archival research, and queer and feminist methods to make her Lisa Ben research freely accessible via LisaBenography.com. She is working on developing a biography of Ben, which she hopes to pitch to publishers within the next few years.

Article published in The Journal of Lesbian Studies
Dr. Litterer's article "'The Third Sex is Here to Stay': Rhetorical Reconstructions of Lesbian Sexuality in Vice Versa" was solicited for the Journal of Lesbian Studies in 2017. You can access the article here, or email Dr. Litterer to request a free PDF.

2018 LGBTQ Research Fellowship, ONE Foundation

Dissertation and PhD Completed in 2020
My dissertation is titled "Lisa Ben and Queer Rhetorical Reeducation in Post-war Los Angeles." Read more at my Dissertation page (forthcoming).

Lisa Ben Biography
Dr. Litterer has been drafting a biography about Lisa Ben since she discovered Ben's writing years ago. She hopes to share that information here and in possible print publications moving forward.

Lisa Ben Birthday Celebration: November 2021
Dr. Litterer co-hosted the 100th Birthday Celebration for Lisa Ben on November 2021 on Zoom.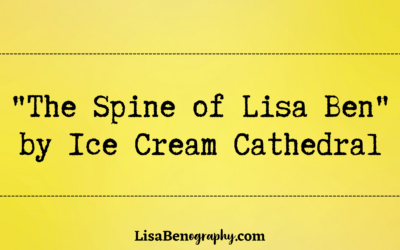 "...'The Spine of Lisa Ben' is an ode to a 1950s pioneering homosexual published writer. It was a huge revolution for sexual freedom in general. It's about historical events of political situations."- Anders Bach of the band Ice Cream CathedralI recently added a new...
Lisa Ben was born on November 7, 1921 in San Francisco, California. She passed away on December 22, 2015. (Image courtesy of ONE Archives) Lisa Ben was like a gem: multifaceted, glamorous, bright. Her talents were vast in breadth and depth, and her successes have been...