Lisa Ben was born on November 7, 1921 in San Francisco, California. She passed away on December 22, 2015.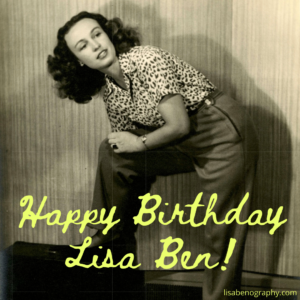 (Image courtesy of ONE Archives)
Lisa Ben was like a gem: multifaceted, glamorous, bright. Her talents were vast in breadth and depth, and her successes have been woven into histories: the largest stich for writing Vice Versa, the first lesbian magazine in the United States in 1947-1948; other stitches on other textiles: Ben was a skilled science fiction writer, she was a quick-witted musician and lyricist, she was a dedicated caretaker for cats and kittens.
I invite you to join me in celebrating Ben today by listening to her her lovely voice singing "Cruisin' down the Boulevard" and "Frankie & Johnnie."
[/et_pb_column]